Tag Archives:
Spain
Spain was invaded by many different cultures. Evidence of this is in abundance so we scheduled a time to view the ancient wonders. Situated on the Mediterranean, offering lovely seaside views. is Peniscola and Tarragona, Spain. Peniscola has a castle that sets atop of the old part of the city surrounded by stone walls. Upward we climbed until we reached the top of the castle. It was a little too touristy for my nature. It is difficult to imagine days gone by when caterers arrive with bouquets of flowers intended for a wedding later that day but panoramic views of the sea abound.
Tarragona proved to be the driving nightmare that we had begun to expect with Roman ruins setting amidst modern buildings. Our hotel was across the street from the coliseum where people continue to host modern entertainments. We walked around viewing thousand years old structures intertwined with a Spanish Elvis tribute band and eateries situated around and through the stone. What incongruousness! Fortunately we drove to a really great ruin of a Roman aqueduct several km outside of town and got to walk rather close up to the engineering wonder.
Our final side trip was conducted through a tour group up to Montserrat. I am Roman Catholic, something that defines me as a person. We are not an evangelical people so my intent is not to convert but to explain. I went to the mountain enclave to see a bit of history, the goal of the tour guide. Tucked into the side of a mountain, (Montserrat means serrated mountain.) it is home to a Benedictine Monastery. According to legend in the 800s shepherds saw a light in a cave indicating the presence of the Holy Mother. During the 1200s a statue was carved in her honor. The Virgin of Montserrat is a black Madonna holding her child. Not able to move the statue the monks build around it. Today la Moreneta ("The little dark-skinned one") is housed behind the alter in the Basilica. For hundreds of years, people have made pilgrimages to this holy place, asking for miracles. I knew little of this before we arrived and thus began our explorations at the gift shop. We then made our way to the Basilica where we found a long queue and decided to ignore our tour group and join the lines of waiting people. Our tour group was going to meet and then proceed to the Basilica where at 1:00 a boys choir would sing two songs, a tradition that began in the middle ages. The hour long wait allowed us time for prayer and contemplation, moving through thousand year old rooms with lovely alters and statues before we ascended the narrow staircase to the Madonna. The choir began to play adding to the specialness of the moment. Before me were two middle age Spanish ladies obviously prepared for this trip. Their eagerness shown through the language barrier. Each person is allowed a moment to honor the Virgin before moving on. These ladies were overcome and even peeked back into the room as I moved before the Holy Mother. As a Catholic, I need these reminders of God's spiritualness and didn't realize how truly filled with awe I would become. It was accident that I meandered into this queue not a tour stop destination but it provided one of the highlights of my trip.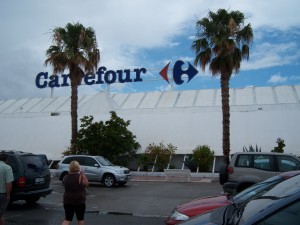 One of my favorite things to do when traveling is to shop at the local stores. It says so much in terms of how people live and what is important to them. In search of a reasonably priced GPS I found that the European  version of a superstore, Carrefour and one could be found near our place in Albir. Thirty minutes later after several false attempts we arrived. The store looks a lot like Sam's Club but without the need for membership cards and individual rather than large quantities of items. My first stop was the book section. I love to look for books in Europe because the stores often have English versions of their local authors and the newest publications from European authors.. Sure enough I acquired a Spanish novel and the latest from Cecilia Ahern. We found a Garmin that was two-thirds as much as the last one purchased in the U.S. From there we proceeded to the food section. First up was an icy display of fresh fish. Some were being scaled as we watched. An entire eel lay before me ready to be purchased and prepared. Leaving Mike to get some video of the process, I went on to the important stuff  – pastries, cookies and candy. I am always amazed at how much of these items can be found in European stores  but how few really overweight people we see. They must know how to achieve a balance that eludes me. Meats are important in Spain, especially pork so there was a large charcuteria or delicatessen, decorated with whole hams that included a foot. Perhaps to give you a peak at to what the animal looked like?? Among our more unique finds were ham-flavored Pringles and Coke-flavored Jell-O. I guess my best buy had to be Spanish hot chocolate. Resembling pudding, it comes already made in a carton. Heated up with some whipped cream it is almost a spiritual moment (that is if you like chocolate.)
The next trip took place with Garmin firmly planted on the front window. The destination was Xativa (pronounced Sha-ti-va). We arrived with no problems to a medieval town with one lane, one way streets. Miss Garmin was misinformed on this information so we were on our own again to locate the Castile. Mike was given an opportunity to show off his driving skills as we went up and back down the wandering (or as the travel book said, "higgledy-piggledy") " maze that is the historic district finally lucking up on the path to the Castile. After parking the rest of the afternoon was spend mostly climbing up. Spanish castles (maybe others, I am not an authority) are situated at the top of mountains. We climbed the smaller one first and found out that Hannibal had stayed there. His wife even had her own room where she gave birth to a child. It is truly emotional to realize that you are standing on history. More so for me, when it comes off the beaten path and not a touristy area like the Coliseum for example. Unfortunately he left no elephants behind. They would have proven useful for the further walking. But it was worth it. The panoramic views were inspiring and left us with renewed appreciation for the land and life in castles.
We completed our day trips of the Costa Blanca region with a trip to Alcoi. Up windy roads for about sixty minutes we arrived to a rather large city situated among the mountains. Known for its sugared almonds and tiled buildings, we saw neither. A few pictures and a dang good gelato later, we decided to give it up and head on back. The loveliness of this city missed us or we just couldn't find it. Travel books can only do so much.
Onward tomorrow to the province of Roman ruins.
We are home-based  in Albir, Spain, a small town by the Mediterranean. The pebble beach is a vacation spot for many northern Europeans making this a beautiful place to stay for the view but our days will be spent taking trips in the opposite direction. I really don't enjoy "relaxing" on a beach and would rather venture out to look for history , culture and nature.
We rented a car in Barcelona – a Citroen Picasso. I love it! It is a small, cute, station wagon; easy to drive BUT the rental place decided that I did not request a GPS (I did) and we are without. This has made most trips twice as long as they should be. Tomorrow we are going to the local superstore and try to purchase one. Spanish highways and street signs are not always easy to see. You can make few left turns and most locals do not speak English.
Taking a cue from the literature on paid tours, we traveled on our first day to Jalon, a place known for its vineyards. Up a steep mountain road we went, oohing and ahhing, until we located the small town. It has one vineyard that is closed on Sunday. Oh well, I suggested we sit down at a lovely grape leaf (real ones) adorned bar and enjoy some Sangria. Not being a Sangria expert I didn't realized the punch would come in large pitcher. I thought the waitress was mistaken when she brought it to me. She was also surprised that I was not part a of a large party and suggested that we order some food. She didn't think that much wine on an empty stomach was a good thing and we agreed. Soon plates of meats, cheeses, olives and tomatoes arrived with a basket of bread. We were delighted. Couldn't finish the drink but the food was good and the conversation with the Dutch people beside of us made for an entertaining afternoon.
The next day we ventured up another mountain to the small town of Guadelest. You must walk up and through a short tunnel to enter the old part. In that section is a 17th century home that has steps which will lead you out to a castle built in the 13th century. Unfortunately earthquakes have made the castle mostly ruins but you can see the valley below which overlooks Lake Guadelest, an azure blue lake. I have only seen this color artificially, never for real and am sure that my photographs will not do it justice. A torrent of rain held bay until the last souvenir was purchased and we dashed back down the hill to eat at a recommended, privately own restaurant. The waitress allowed us to go out to a closed in deck so we were able to view the castle while dining and enjoyed a carefully prepared late lunch (or early dinner) depending on your cultural preferences. The gazpacho was divine, creamy, and seasoned with just the right amount of olive oil and salt. We finally found the correct and most direct route back which also included an orange stand. Our unit has an electric juicer and I want to make fresh juice. I also purchased some chocolate soap which I hope will make me smell delicious. It doesn't get dark until about ten o'clock allowing enough time to relax, read and swim, not necessarily in that order.